"Do not wait to strike till the iron is hot; make it hot by striking." (WB Yeats)
PUBLISHED, in roughly chronological order, since June 2016:
🍁 CommuterLit.com has run nine of Mitchell's short fictions. In June 2016 the e-zine published "The Red River Valley Trilogy":  "Encountered on the Shore" (Appeared twice: Rerun Friday: October 6, 2017 – see below), "A Vile Insinuation", and "Without Reason". The linked stories concern, respectively: the aftermath of a violent encounter on a city street; a young American leaving the ball fields of North Dakota for the killing fields of Vietnam; and a devout Mennonite man grappling with cancer and faith.
"Gather By the River" ran the week of Dec 5. It appeared in two parts on consecutive days. "Zero to Sixty", the lead segment, introduces the chief character and his circumstances; sparking some poignant memories of Hartplatz, his childhood home. In the second piece, "The Margin of the River", the protagonist returns to the scene of the previous day's incident with troubling results. On January 30, 2017 "The Rothmans Job" a wintery, noir-comedy-caper story set in the seventies in downtown Winnipeg ran on CommuterLit.com.
"Winter Eve in Walker Creek Park", a flash fiction, was presented on February 17, 2017.
CommuterLit will present a reprint of "South of Oromocto Depths", one of Mitch's most true north stories, soon after Canada's 150th birthday celebration.
Two more of his stories appear in Fiction on the Web (UK): "Nothing to Lose", a short, vivid story where the main character relives regrets and long-buried memories and "Heavy Artillery", in which a local runs the count full on the summer streets of a small town.
🍁 "A Fisherman's Story", tells the story of sorrow as it visits a simple family on the shores of "pre-tourista" Puerta Vallarta in Rhubarb Magazine Issue 39. (Mitchell has crafted two stories – a prequel and a sequel – to the original story and they will be submitted for publication soon.)
Literally Stories (UK) published Mitch's twisted yarn, "Breezy and the Six-Pack Sneaker"; as well as his nostalgic walk down a dangerous alley in 1932 Winnipeg, "The Fifty Dollar Sewing Machine"; the contemporary tale, "Frozen Tag"; and the story of teenage friendship, drink and folly, "South of Oromocto Depths".
LS presented Mitch's satiric imaginings of Big Church in, "The Business of Saving Souls", on January 10, 2017. "They neither labour nor spin…"
"Our German Relative," tells a fictionalized tale of Mennonite lore from the early days of communist Russia. This story is found on Red Fez, a literary/art site online, where "our German Relative" became the Story of the Week and followed that distinction with the second Most Viewed Story of the Month (Dec) and then Most Viewed fiction in Issue 96 of Root Metz. 
Mitch's writing returned to Fiction on the Web on January 23, 2017, when "The Preacher and His Wife" was published on the site. This short fiction tells the comical tale of misinformation and gives readers an inside peek into (real) pure Mennonite life, circa 1963.
Sick Lit Magazine published a reprint of "The Rothmans Job" on Thursday, March 30, 2017. "Are you ready to go, Waxman?"
The Machinery – A Literary Collection has chosen "I am Otter" for their website and print collection. You can buy the issue containing this Otterite story of disenfranchisement, here: https://themachineryindia.com/2017/03/24/the-machinery-fauna-paperback/
"The Business of Saving Souls", a prickly satire about the conflation of business, big church and politics was reprinted  May 15, 2017, on SickLit Magazine.
Fiction on the Web (named a TOP 20 short story blog) published "The Beefeater and the Donnybrook" on May 19, 2017. A Halifax tourist runs into entanglements on the streets of London.
Meanwhile, the tragic tale, "The Log Boom", appeared on Storgy.com May 19, 2017. @morestorgy had this to say:
The impressive 'The Log Boom' by mitchell_toews, a brilliant author and voice which we are proud to be bringing you!

A reprint of "Encountered on the Shore", a short story set alongside a rushing stream in Winnipeg, arrived on Fair Folk Journal on June 5, 2017.  This piece first appeared in CommuterLit.com, June 6, 2016.
(P.S. – All the better to C you with, Fair Folk has changed their publication name to OCCULUM, effective 6.20.17)
The MOON magazine ran the short story, "The Peacemongers" on June 5, 2017. This 4,800-word fiction was in the June 2017, "Swords into plowshares: Transitioning to a world without war," issue and the author was–and is–is pleased to be included!
UK-based language learner literary site, Alsina Publishing will present the gritty realism flash fiction, "The Light Pool".  (July 22) It is interesting to note that the publisher and the author collaborated to edit the piece to contain simple language and short sentences — the best material for new language learners to absorb on the publishers new "LingoBites" site, where stories are presented in English & Spanish; print & audio. A new three-part serial by Mitchell, "The Old Guardsmen", will be presented to LingoBites audiences (everyone gets to read three free stories a month) on Nov 20, 2017.

"The Light Pool" was described as; "a very genuine flash fiction piece." This story will be one of ten included in a newly-announced secondary school unit featuring LingoBites stories.
riverbabble, one of three literary journals published by Pandemonium Press of Berkeley, CA, published "The Margin of the River", a story of unintended violence, on June 16, 2017. (A short fiction that first appeared in CommuterLit in December 2016.)
Recurrent character Matt Zehen learns important life lessons about respect, honesty and the need for caution out in the wide world in, "Fairchild, McGowan and the Detective". This short story published in WORK Literary Magazine on June 19, 2017.
OCCULUM published "Graperoo" – a whimsical perspective with some telling observations about life in the "animate sphere" August 17. Do you ken me?
Literally Stories, a UK-based literary journal dedicated to the short story, ran "So Are They All" on August 22. This story takes place in the year following the Cuban Missle Crisis of 1962 and asks questions about loyalty, mutually assured destruction (M.A.D.) and Saskatoon pie.
Fictive Dream ("…very excited about short stories in the UK & Ireland!") published "The Seven Songs" on November 26. This story tracks a superficial relationship between two men who are less than honest with one another and themselves. We like to receive the whole truth – we just don't often provide it to others.
Digging Through the Fat published two LINKS to prose by Toews on Fiction on the Web: "Nothing to Lose" and "Heavy Artillery". (August 30)
🍁 CommuterLit published "Encountered on the Shore" on October 6, 2017, on their Rerun Friday feature.
Fiction on the Web published the short story, "Fall From Grace", on December 18. It's a tale of Hartplatz misadventure and lessons learned.
Written in a kind of 'raconteurial high vernacular', at least, that's how Mitchell's editor, James McKnight, has termed it…
The story recounts the unexpected complexity of a summer day within the context of "sepia-toned nostalgia".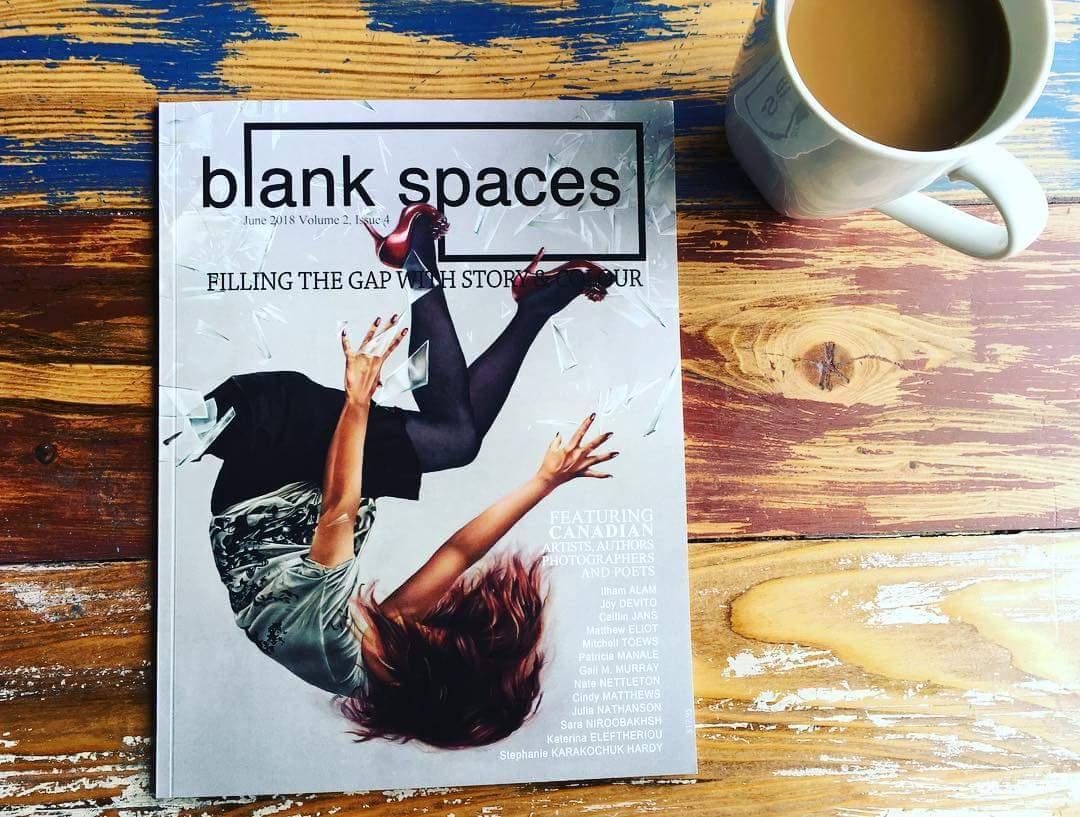 Two CANUCK acceptances came in the week of Nov 22, 2018:
🍁 Pulp Literature said Jo to
 "Away Game" while 🍁 Blank Spaces followed a few days later with an affirmative for "Sweet Caporal at Dawn". Both stories are set near the water, near the 50th parallel and in one case, nearly heaven.  "Away Game" will be out in Autumn 2018. "Sweet Caps" is available in Volume 2 Issue 4, at newsstands June 5, 2018. 
The author is once again honoured to represent his personal slice of literary heaven (just north of the 50th parallel on Jessica Lake) in riverbabble. Issue 32 follows the theme "unfolding" and Mitchell's surreal story of birds flapping and trapper mitts slapping is in it. "In the Dim Light Beyond the Fence" February 2018.
The Cabinet of Heed, a literary journal edited by Irish writer Simon Webster has accepted my story of sacrifice and guilt, "The Doeling", in Issue Eight, May 6.
"City Lights" will appear May 7 on Fiction on the Web. An earlier version of the story appeared as "The Light Pool" on LingoBites in 2017. Mitchell: "I often write sympathetic characters. Not here. I've scraped the bottom of the pit. They are a loathsome bunch."
🍁CommuterLit is presenting a reprint of "I am Otter" on May 15. The story is a runner-up in their call for stories for their flash fiction feature and Editor Nancy Kay Clark decided to run it in the week following. Is that a lake or a swamp?
"I am Otter" first appeared in The Machinery – A Literary Collection  You can buy a print edition containing this story of cultural Otterites, here: https://themachineryindia.com/2017/03/24/the-machinery-fauna-paperback/
CONTESTS, PRIZES, ANTHOLOGIES, etc.
🍁 "So Are They All" won second place in the Adult Fiction category of the 2016 "Write on the Lake" writing contest and appears in the Lake Winnipeg Writers' Group's semi-annual journal, Voices, Volume 16, No. 2. Mitchell presented excerpts from the story during the Voices launch at McNally Robinson Book Sellers in Winnipeg, on November 20, 2016.
#
"Fall from Grace" received an honourable mention (not published) in The Writers' Workshop of Asheville  Memoirs Contest, 2016. TWWOA has been active in the North Carolina literary scene since 1985. A young boy's fears come to life – danger hides in plain sight on a quiet, small-town day.
#
🍁 Mitchell's story, "The Phage Match" was one of 16 finalists in Deathmatch 2017 – a writing contest for independent creative fiction in Canada, from the special people at Broken Pencil mega-zine.
#
The story "Nothing to Lose", which is part memoir-part imagination about Chuck Toews, as a young man in Steinbach, MB ("Hartplatz") has been chosen for a print anthology in England. American writer Charlie Fish — an expat living in London — has published the online literary zine, Fiction on the Web, since 1996. In that time he has published more than one thousand short stories by writers from around the world. Charlie is publishing a print collection of his favourite stories from FotW's 21-year history. The proceeds of this literary collection's sale will go to a London hospital charity: Guy's & St Thomas' Foundation Trust. The book will be available for purchase in the new year (2018).
The Best of Fiction on the Web press release
MANY more short stories & flash pieces are ready for the slush pile. I wrote over 100,000 words in 2016! About the same in 2017 and 2018 is in like a lion! 
The trick now is to balance writing the first draft of the novel with my need for editing older stories and submitting fiction to literary journals. I hope to keep both of those trains on the track. I am, for the time being, holding off on writing any new short fiction – reserving newborn creative upwellings for the needs of "Mulholland & Hardbar", my hungry long form baby.
My short fiction, "The Mismaloya" is one that editor Mcknight and I agree might be among my best. I've subbed it to publications that take a little longer to reply – 4-5 months. So far, I've received no uncomfortably fast rejections from these 'mid-range' publications (20 goal scorers, so to speak) and that in itself is a kind of victory for this Manitoba savage.
I also have a first-draft novella in waiting: a 17K-word speculative thriller called "Tafelberg" for which I have fondness – not a little. But it needs elbow grease – not a little. My editor likes it too and I think we will take a shaper and some bondo to it at some point.
A novel? Of course. Two. The first has a wonderful plot line, plucked from the rhubarb patch and spanning the Mennonite trail from Molotschna to Hamburg to the East Reserve. It is on hold for the time being and foreseeable as I concentrate on other hard-as-hell fictive dreams.
The second is well on the way! A first draft of 110,000 words is complete. Editor McKnight has been minding the compass as we follow a winding boreal trail along the 50th parallel – now we're ready to chip away at it and reduce it to its true fighting weight.
"A back-country road trip into the secret, lethal places in the Canadian boreal forest, covering all four seasons: friendship, loss, guilt, and violence."
As I tell editor James, I have leapt from the burning building and I am tying the bedsheets together as I fall.
#
P.O. Box 146
Rennie, Manitoba R0E 1R0
https://www.facebook.com/mitch.toews  ~  @mitchell_toews on twitter
Pages on StumbleUpon, FlipBoard, Reddit, Tumblr, LinkedIN, and Google+ as well.